Dentist SEO Case Study
In this case study, we will discuss our approach for an organic search optimization campaign and the steps taken to achieve Page One Domination for dentistry and that too in just five months.
This strategy enabled us to rank at #1 position for keywords like 'dentist near me', 'dental clinic near me', 'best dentist in Kharar', 'dental clinic in kharar' and 'dentist in kharar' which directly increased organic traffic by 671.15% for our client's website. The region that we were working for had a population of around 1550000 and had a very competitive market already.
The business was not doing good on the Google Map Pack. For its most important keywords, the business ranked at position 8th on its own location. The campaign that we opted for this client was the 'Aggressive GMB campaign' which focuses on giving an initial boost to google maps ranking of the business. The overall turnaround time for this campaign is about 50-70 days.
These are the current rankings of the keywords in its target area.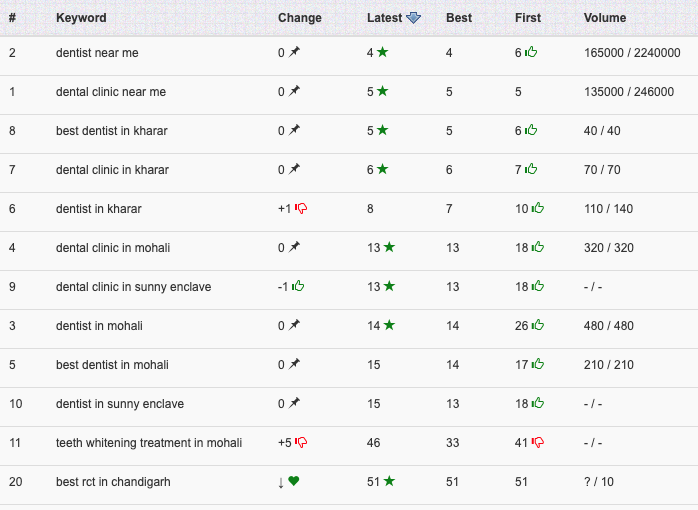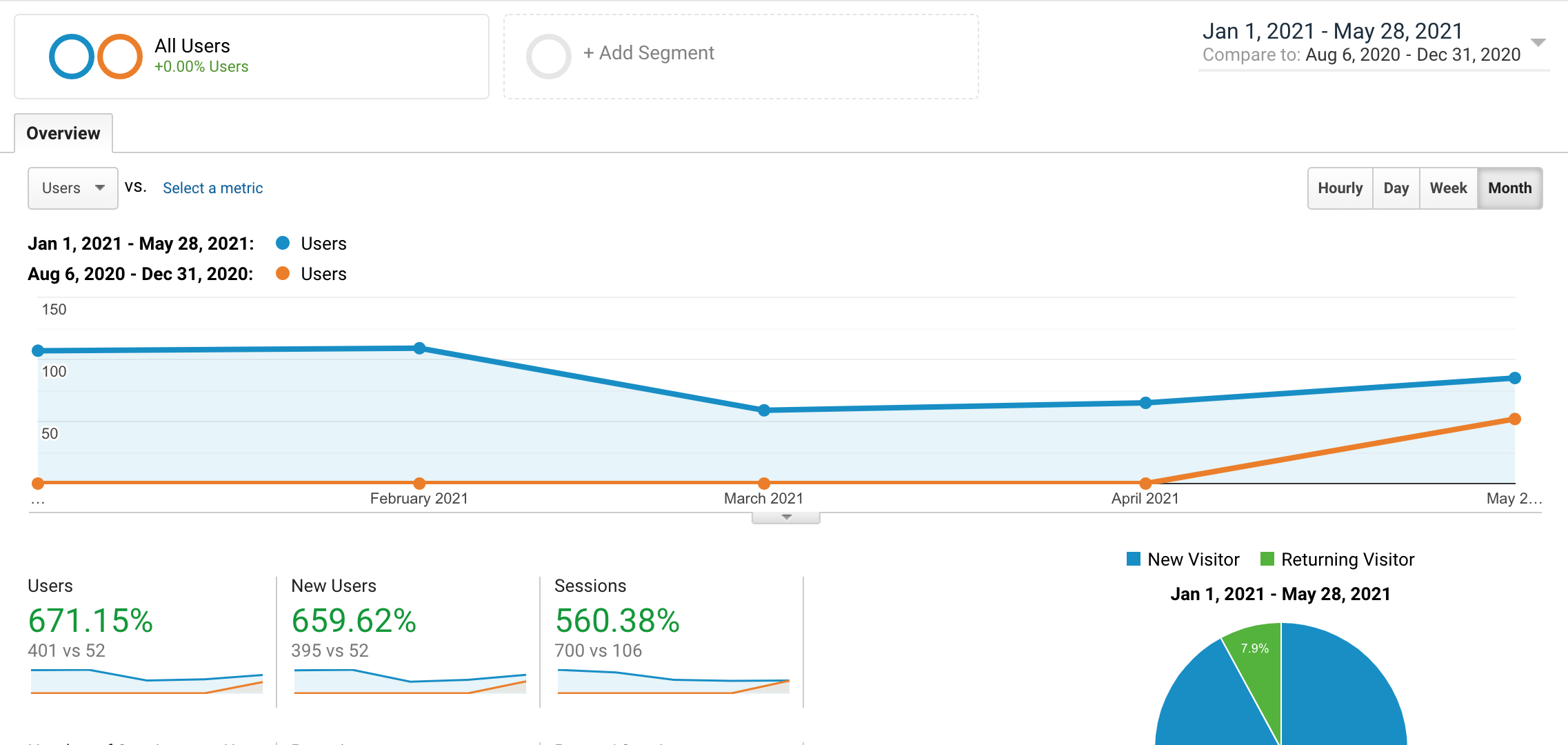 The above screenshot is a traffic comparison from 1st Jan 2021 – 28th May 2021 with 6th August 2020 – 31st December 2020 for Roots and Crown Micro-dentistry. As can be seen in the screenshot, there is a 671.15% increase in overall users and 659.62% are new users.
Below are the before and after screenshots of local rankings of Roots and Crown microDENTISTry from Local Vikings. Green colored geo grids represent Google 3 pack ranking for the keyword whereas the other colored geo grids represent the current ranking for the particular keyword. As you can see in the screenshots, the rankings of the business have improved tremendously around its surrounding areas for the mentioned keywords. For examples initially, for the keyword 'best dentist in Mohali', on 12 December 2020 the rankings were very poor but this improved significantly by 28th May 2021. The same goes for the other two keywords 'best dentist in Kharar' and 'RCT teeth'.
Strategies that were followed for SEO optimization:
Following were the main points that we focussed on as part of our local SEO strategy.
Anchor Text Analysis
In order to implement this, we check the top 3 highest ranking websites on Google for our search query. This way we are able to reverse engineer the anchor text and backlinks of our top competitors and outrank them.
Content Optimization
People do talk about Page Titles, H tags and Schema Markup being the most important ranking factors but they don't talk about the content. Content on the page is an extremely important on-page factor and should be optimized on priority just as these other elements.
We use PageOptimizer Pro for optimizing the page content.
Fixing Technical Issues
Technical issues of a website cannot be neglected for a successful SEO campaign. We start our SEO campaigns with full technical audit to find any major or minor underlying technical and quality issues that could lead to easy wins in the campaign if taken care of properly.
We use Screaming Frog report so that we can catch issues like poor H tag and title optimization or bad URL structure at a glance.
Summary
As a result of our ongoing efforts, the SEO campaign for Roots and Crown microDENTISTry has experienced an impressive amount of growth in a short time in terms of both calls and appointments.
As you can see in the screenshots above, Roots and Crowns Dentistry has successfully reached the 1st page of Google search results. Websites that are currently outranking us are directories and we are on our way to outrank the directories as well.
Here is what our happy client Mr.Ankur Vats (Co-founder, Roots and Crown microDENTISTry) has to say about Annexal: