In today's digital age, having a strong online presence is crucial for any dental practice looking to attract and retain local patients. Local SEO (Search Engine Optimization) plays a pivotal role in helping dentists optimize their websites and online listings to rank higher in local search results. By implementing effective local SEO strategies, dentists can ensure that their practice is visible to potential patients in their area when they search for dental services. From optimizing Google My Business listings to leveraging online reviews, this post will provide dentists with practical tips and insights to enhance their local SEO efforts and grow their practice.
Dentist SEO Case Study
Welcome to our case study on achieving Page One Domination for dentistry through an organic search optimization campaign. In a span of just five months, we implemented a strategic approach that propelled our client's website to the top positions on the first page of search engine results. By employing effective optimization techniques and meticulous planning, we were able to secure prominent rankings for key industry-related keywords. This case study will outline the specific steps we took to achieve this impressive feat, providing valuable insights and strategies that can be applied to similar campaigns in the future.
Implementing this strategy resulted in our client's website achieving the coveted #1 position for highly sought-after keywords such as 'dentist near me', 'dental clinic near me', 'best dentist in Kharar', 'dental clinic in Kharar', and 'dentist in Kharar'. As a direct result, organic traffic to the website skyrocketed by an impressive 671.15%. It's important to note that the region we targeted had a population of approximately 1,550,000 and was already saturated with strong competition. Despite these challenges, our approach proved successful in outperforming competitors and driving significant traffic to our client's website.
The business was facing challenges with its Google Map Pack ranking, as it held the 8th position for its crucial keywords within its own location. To address this issue, we implemented an effective strategy known as the 'Aggressive GMB campaign'. This campaign specifically targeted improving the Google Maps ranking for the business, providing an initial boost to its visibility. Remarkably, the overall turnaround time for this campaign ranged from 50 to 70 days. Through our dedicated efforts and optimization techniques, we were able to significantly enhance the business's presence on Google Maps, ultimately increasing its online visibility and potential customer reach.
These are the current rankings of the keywords in its target area.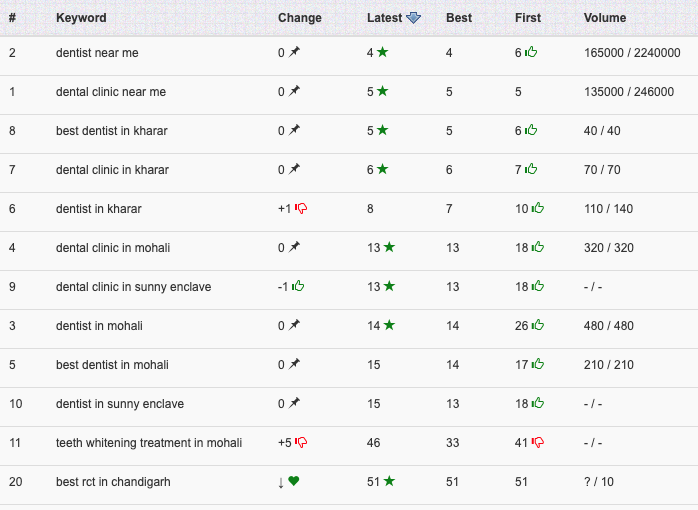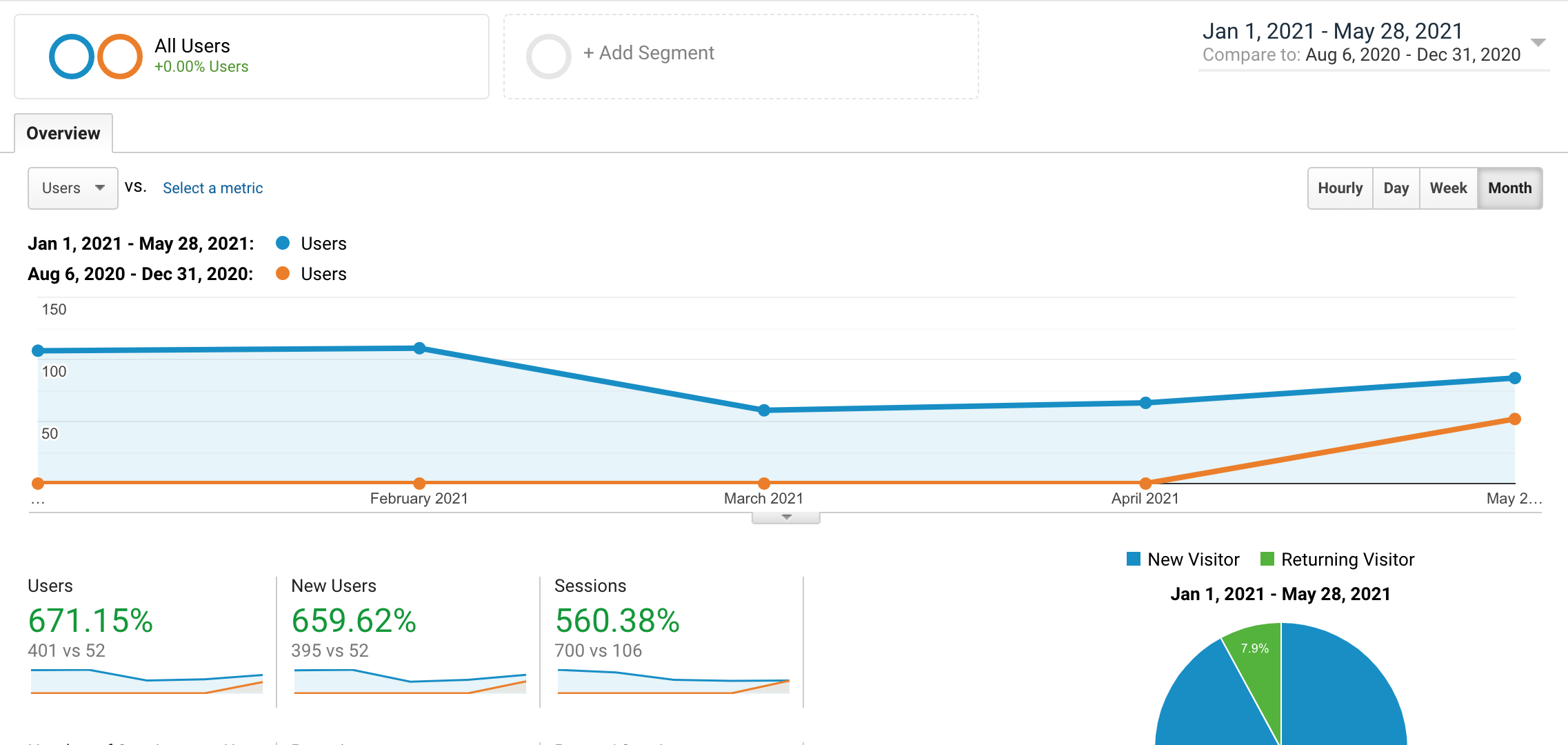 The provided screenshot displays a traffic comparison between two periods: 1st January 2021 – 28th May 2021 and 6th August 2020 – 31st December 2020, specifically for Roots and Crown Micro-dentistry. The data reveals a remarkable surge in website traffic, showcasing a staggering 671.15% increase in overall users. Additionally, the analysis highlights that 659.62% of the users during this period were new visitors, indicating a substantial growth in attracting fresh audiences to the website. This substantial increase in both overall users and new users signifies the effectiveness of the implemented strategies in driving traffic and expanding the reach of Roots and Crown Micro-dentistry.
Below are the before and after screenshots of local rankings of Roots and Crown microDENTISTry from Local Vikings. Green colored geo grids represent Google 3 pack ranking for the keyword whereas the other colored geo grids represent the current ranking for the particular keyword. As you can see in the screenshots, the rankings of the business have improved tremendously around its surrounding areas for the mentioned keywords. For examples initially, for the keyword 'best dentist in Mohali', on 12 December 2020 the rankings were very poor but this improved significantly by 28th May 2021. The same goes for the other two keywords 'best dentist in Kharar' and 'RCT teeth'.
Strategies that were followed for SEO optimization:
Following were the main points that we focussed on as part of our local SEO strategy.
Anchor Text Analysis
To effectively implement this strategy, we conduct a thorough analysis of the top three highest-ranking websites on Google for our specific search query. This approach allows us to reverse engineer the anchor text and backlinks utilized by our primary competitors. By understanding and leveraging these insights, we can strategically optimize our own anchor text and backlink profile, ultimately aiming to surpass our competitors in search engine rankings. This comprehensive analysis enables us to gain a competitive advantage and enhance our chances of achieving higher visibility and improved rankings in search results.
Content Optimization
While Page Titles, H tags, and Schema Markup are often discussed as crucial ranking factors, the importance of page content is sometimes overlooked. In reality, optimizing the content on a page is an essential on-page factor that should be prioritized alongside these other elements.
To ensure effective content optimization, we rely on PageOptimizer Pro. This powerful tool allows us to thoroughly analyze and optimize the page content, ensuring it aligns with search engine algorithms and user intent. By leveraging PageOptimizer Pro, we can enhance the relevance, readability, and overall quality of the content, increasing the likelihood of improved search engine rankings and a better user experience.
Fixing Technical Issues
Neglecting technical issues can hinder the success of an SEO campaign. To ensure a comprehensive and effective approach, we commence our SEO campaigns with a thorough technical audit. This audit allows us to identify any significant or minor technical and quality issues that, when resolved, can yield significant benefits for the campaign.
In our technical audits, we leverage tools such as Screaming Frog to generate detailed reports. This enables us to quickly identify issues like suboptimal H tag and title optimization, as well as problematic URL structures. By addressing these issues promptly, we can achieve quick wins in the campaign and lay a solid foundation for improved SEO performance.
Summary
As a result of our ongoing efforts, the SEO campaign for Roots and Crown microDENTISTry has experienced an impressive amount of growth in a short time in terms of both calls and appointments.
As you can see in the screenshots above, Roots and Crowns Dentistry has successfully reached the 1st page of Google search results. Websites that are currently outranking us are directories and we are on our way to outrank the directories as well.
Here is what our happy client Mr.Ankur Vats (Co-founder, Roots and Crown microDENTISTry) has to say about Annexal: